ATS City Survival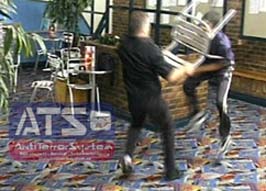 --> CITY SURVIVAL ® 48 Hours VIDEOKURS - Werde dein EIGENER BODYGUARD
--->>> NEU in unserem Angebot: CITY SURVIVAL DEFENSE TOOLS - legale Waffen für die effektive Selbstverteidigung
City Survival® ist beim deutschen Patentamt eingetragen als Marke für Sicherheit und Selbstverteidigung.
City Survival® ist das speziell für PRIVATBÜRGER optimierte System für Sicherheit, Selbstschutz und Selbstverteidigung mit und ohne Waffen.
Willkommen bei ATS City Survival - Selbstverteidigung, Selbstschutz, persönliche Sicherheit
---> Privacy Agreement, Cookies, Data Protection and your rights under the new EU regulations
---> Terms and Conditions, Terms of Service for all Cobra Systems LLC web sites
The new EU laws regarding data protection and privacy of internet users residing within the European Union makes it neccessary for all companies with EU customers/visitors/users to implement these regulations and TO INFORM YOU, as user residing in the EU, about our Privacy Agreement, use of "cookies", your rights as regards data protection and our Terms of Service. You, as a user/visitor in the EU, must expressively accept these terms. Also we must ask your permission, to send you email information. This makes our and your life more complicated, granted... but it also makes the internet safer.
COBRA SYSTEMS LLC has a ALWAYS followed these rules, long before the EU ever considered such laws. However, it is now mandatory for us to give you the possibility to read the above mentioned agreements and ask your consent. Thus, please do visit these two links above, and accept these terms laid out. Also, before we can send you information you desire (newsletter or other) we must send you an email to ask your explicit permission to do so. Please note that if you do not consent to our Terms of Service and Privacy Agreement, we cannot send you informations or offer services to you.
Please DO NOT CLICK if you don't accept our Terms of Service and Privacy Agreement!
Linktipps: REISESICHERHEITSSEMINARE (HET) - SPY TRAINING - ADVENTURE & Aktivurlaub - Ausbildung z intl PRIVATERMITTLER
Keywords dieser Website: City Survival, 48 hours, ATS, Antiterrorsystem, Sicherheit, Selbstschutz, Selbstverteidigung, Nahkampf, close combat, Krav Maga, Krav Maga Medechuv, Stockkampf, Messerkampf, Kampfsport, Verteidigung für Frauen, Anti Terror System, Antiterrorsystem,ATS,optimal, beste System, Selbstverteidigung, Selbstschutz, Überlebenstraining, Survival, Cobra Systems LLC, Selbstbehauptung, VIP Training, Manager training, anti kidnap, Entführung vermeiden, Reisesicherheit, Unfallverhütung, Feuerverhütung, Notfalltraining, Notfallmanagement, Selbstverteidigung mit und ohne Waffen, Malak Kali, Krav Maga, Messerkampf, Stockkampf, Waffentraining, Anti Gewalt Strategie, Terrorismusbekämpfung, Terrorismus, Anti Kriminalität, personal security, Schutz, Gewalt, Gewaltkriminalität,Kriminalität, Mobbing, Kriminalitätsvorbeugung, Kriminalitätsprävention, Sicherheit, Sicherheitsdienste, Sicherheitstraining, Selbstverteidigung, Sicherheitsseminare, Einbruchschutz, Einbruchsicherung, Unfallschutz, Prävention, Deeskalation, Deeskalierung